THE CROWDING GHOSTS OF DICKENS TROUBLED PAST
Vestiges of bygone London abound on this fascinating walk that explores an area that fired Dickens creative energies whilst, at the same time, haunting his imagination.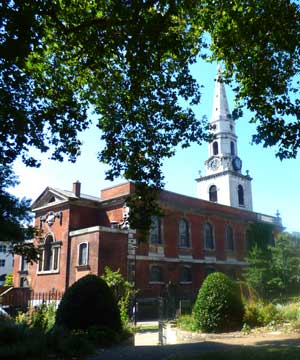 Our tour begins on an historic stretch of road along which Charles Dickens, when he was a very young boy, set off to embark upon the years that he later referred to as the most idyllic of his early life.
It was along this same stretch of road that he later returned to be confronted by the sudden and traumatic loss of this happy childhood.
For, no sooner had he arrived back in London than his father, John Dickens, was arrested for debt and incarcerated in the Marshalsea Debtors Prison.
Thus, our tour begins by following in young Charles's footsteps to stand beneath a prominent local landmark that he would, most certainly, recognise were he to return today and which he would have gazed up at on a regular basis during this troubled, and troubling, period.
THE SURVIVING WALL OF THE MARSHALSEA PRISON
Having paused to hear how Dickens later described this place in Little Dorrit we make our way through a tumbledown churchyard to pass through an old gateway and squeeze into a narrow passageway where we will gaze up at the formidable remains of the Marshalsea Prison.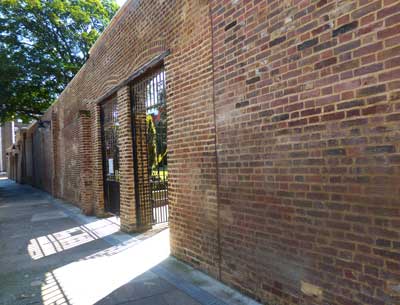 Here we will stand amongst, as Dickens himself put it, "...the crowding ghosts of many miserable years..."
Cowering before this sturdy Dickensian relic, Richard will tell you the full story of John Dickens's time here and will discuss how the relatively short duration of his incarceration had an immeasurable effect on his young son, both emotionally and professionally, for the rest of his life.
Indeed, as you will learn, Dickens never fully recovered from the sense of abandonment he felt and his works are crammed with numerous overt, and several not so overt, references to this troubled period of his childhood and to the Marshalsea Prison itself.
LONDON'S SECRET GARDEN A TRUE SURPRISE
The tour then picks its way through a veritable maze of backstreets - the names of which pay homage to the area's Dickensian heritage (Little Dorrit Court and Quilp Street to name but two) - to enter a secret garden which dates from 1887 and which was created by one of the 19th century's greatest philanthropists.
This lovely spot proves a real surprise to many of the tour participants, even those who have worked nearby for many years!
You will even have the opportunity to sit down and relax as Richard explains the history of your surroundings and explains how Dickens himself was an influence on the founding of this wonderful rural retreat that hides amidst the bustling streets of the modern city.
THE CROSSBONES GRAVEYARD
Having absorbed the peaceful ambience of this tranquil spot, we pick our way through some of the old streets, where the scars of the Victorian industrialisation of the district are still, very much, in evidence.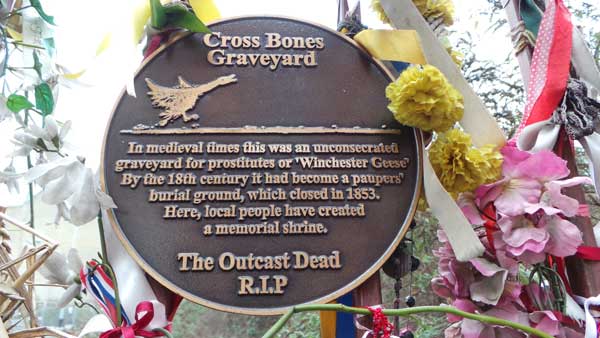 Soon, we arrive at one of London's most poignant locations, the Cross Bones Graveyard, where the outcast dead were laid to rest between the 16th and 19th centuries.
This is another of those moments on the walk when the participants are genuinely surprised by what is a true throwback to a bygone age and, in order to ensure that you get the true feel of the atmosphere, Richard will break for a few minutes in order that you can read some of the moving messages that local people still leave on the gates to those long ago residents who were once interred here.
A MUDDLED MAZE OF COBBLESTONED PASSAGEWAYS
Having lingered at this special spot, the Charles Dickens Walking Tour heads across Borough High Street to explore a muddled maze of cobbled yards and passageways that once marked the entrances to some of the Capital's most famous coaching inns. "...Great rambling, queer old places," as Dickens put it in Pickwick Papers, "...with galleries, and passages, and staircases, wide enough and antiquated enough, to furnish materials for a hundred ghost stories..."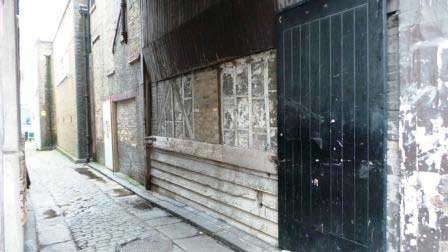 Almost all the inns have gone now, swept away by the coming of the railways and the arrival of the age of steam in the mid 19th century.
But scattered fragments of them have, somehow, managed to withstand the march of time and progress, and Richard will ensure that you get to see every one of these evocative remnants of London's Dickensian past as you walk along the thoroughfare that was once described as being like unto one continuous alehouse with not a break between!
LONDON'S ONLY SURVIVING GALLERIED COACHING INN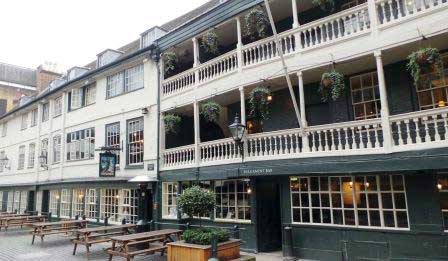 And, amazingly, one of the old hostelries is still there!
It's tucked away in a nondescript courtyard that nestles, apparently blissfully unaware of the arrival of the modern age, behind the shops and snack bars on Borough High Street.
To find it, we will slip through a timeworn wooden gate and, suddenly, there it will be, looming before us - the timbered exterior of London's only surviving galleried coaching inn, a true time capsule that dates from 1677, and which typifies the type of establishment that so many of Dickens characters would have set out from to embark upon their memorable adventures.
WHERE DICKENS'S CAREER TOOK OFF
Next up, we find ourselves standing on the time-washed cobbles of the very place where Mr. Pickwick met with Sam Weller.
It was this meeting that turned Pickwick Papers into a publishing phenomenon and transformed Dickens into one of the World's first celebrities in the modern sense of the word.
Richard will tell you of the terrible tragedy that could, so easily, have brought Pickwick Papers to an abrupt end had Dickens not had the wherewithal to take control of the fledgling project and breathe new life into it. In so doing he, well and truly, sealed his reputation as the inimitable Boz
LONDON'S OLDEST MARKET AND A MORBID OPENING
Having absorbed the surroundings at this evocative location, that proved so pivotal to Dickens career, the walk delves into the lanes and passages of London's oldest market, which also happen to have featured in an hilarious scene in Pickwick Papers.
From here we twist our way via London's oldest gothic church (referred to by Dickens in The Uncommercial Traveller) to reach the banks of the River Thames where Richard will paint a vivid verbal picture of the disturbingly morbid opening of Our Mutual Friend.
NANCY'S STEPS ON LONDON BRIDGE
The final highlight, on a walk that is brim full of highlights, will be a visit to the very steps on which Nancy had a furtive meeting with Mr. Brownlow in Oliver Twist.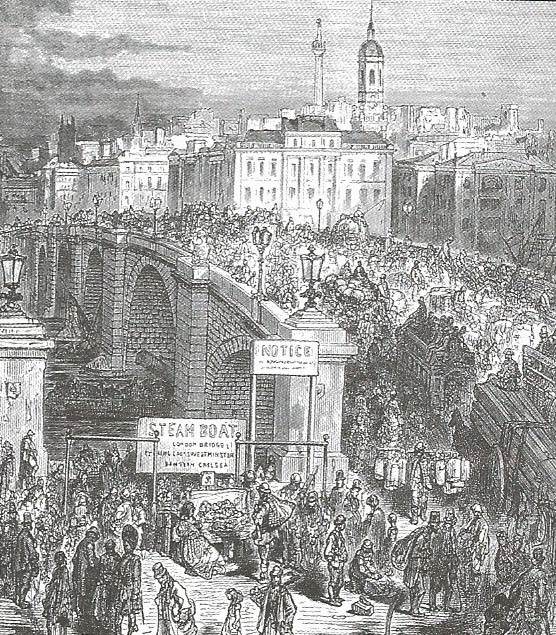 It was this meeting that led to her murder at the hands of Bill Sikes which, as you will hear, became one of the favourite and most terrifying features of the public readings that Dickens gave across Britain and America towards the end of his life.
Indeed, it is widely believed that it was the sheer strain of the performance of the murder scene that hastened his untimely death in 1870.
What better conclusion to our journey through the life, times and works of Charles Dickens than picturing him, expounding so much physical and mental exertion in the bringing of his characters to such vivid and dramtic life, for the delectation of his adoring audiences, that he brings on his own premature demise?
So, join Richard for an insightful walk that will introduce you to a side of Charles Dickens that you may not be familiar with as you discover the demons that drove the man himself and which provided the inspirations for some of his greatest works and most memorable scenes and characters.