A BOZ TIME PERAMBUATION
This is a truly special walk that sets out into an area that has changed little, if at all, since Charles Dickens wrote of it "you can read on its gates "who enters here leaves noise behind."
That one simple statement still manages to sum up the timeless ambience of the atmospheric quarter that we venture into on the Charles Dickens Night Walk.
Indeed, it is as far removed from the hustle and bustle of modern London as it is possible to get, and to explore it on a winter's night, which is what we do, is to feel the unrivalled thrill of a journey where each twist and turn taken is done by the dull glow of gas lamp lighting.
It is, to put it mildly, pure magic, and it would come as no surprise were Pip, Pickwick, or even Dickens himself, to come striding out of the gloom - a welcoming hand extended in greeting - to welcome you to a quarter that is still, very much, their London.
To add to the sheer historic thrill that you will encounter on this tour Richard will be suitably attired in Victorian garb and, to all intents and purposes, he will look as though he could have stepped right off the page of a Dickens novel.
YOUR GREAT EXPECTATIONS WILL BE EXCEEDED
So, having been greeted by your Dickensian guide, we set off into the London night and, almost immediately, we cross the threshold of the aforementioned enclave the entering of which enables us to leave noise behind.
No sooner has the cacophony of the modern London night fallen far behind, than we find ourselves standing before the very building in which Pip was residing when Magwitch turned up one storm-tossed night to reveal himself as the source of Pips Great Expectations.
A DICKENSIAN FOUNTAIN
Having enjoyed the tale of Pip's Great Expectations being dashed to smithereens in a rain-lashed instant, we ascend a flight of time-worn steps to pause alongside a fountain which Dickens featured in Martin Chuzzlewit.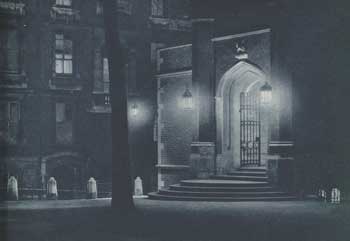 Now, to be honest - and, of course, accurate - this isn't the actual fountain that Dickens featured, as that particular one was replaced by this particular one in the early years of the 20th century.
But, the surroundings are still, more or less, as they were when Dickens wrote about the fountain, and what he had to say about it is engraved upon an adjacent plaque and, as you will see, his description still holds true to day.
So, given a little poetic licence, it is still as much a part of Dickensian London as it was when Dickens stood here and soaked in the ambience of this leafy square, and the flickering gaslight lends the tour's narrative a distinctive flair that will have you convinced that you have been transported back to the streets of the 19th century Metropolis, and that's a promise!
WE DELVE A LITTLE DEEPER INTO DICKENSIAN LONDON
Moving on, and by way of some absolutely breathtaking remnants of bygone London, we arrive at the grave of the 18th century author from whom Dickens drew the inspiration for the alias under which he first came to public attention - Boz.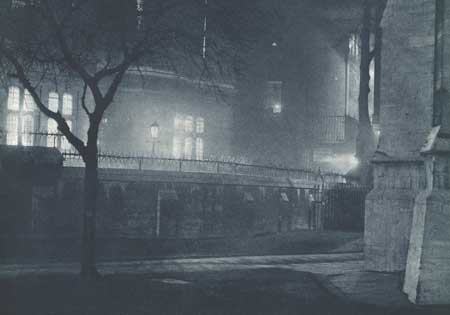 As he began writing observational pieces about the places and people of pre-Victorian London, he decided, for reasons we'll go into on the walk, that he should publish them under a nom de plume and so he began casting around for a suitable name.
Wishing to pay tribute to the writer and poet whose grave we will be standing beside, he remembered that, as a boy..... well, you'll hear the rest of this amazing tale on the Charles Dickens Night Walk!
A TRAIL THROUGH TWO CITIES
Leaving behind the tranquil quietude of our first gaslit quarter, we collide head on with the rush of modern London as we stroll along Fleet Street and cross the boundary that separates the cities of London and Westminster.
No sooner have we set foot in the latter of the two than we find ourselves gazing upon the very bank outside which Mr. Jeremiah Cruncher was wont to sit by day in A Tale Of Two Cities.
Then, crossing the road towards one of London's most majestic landmarks, we aim our footsteps back into the City of London and pass the 17th century building inside which the youthful Dickens received a well aimed kick up the behind from a perspiring effigy.
A MOULDY PRESERVE AND TWO ANCIENT GIANTS
From this point on we dip in and out of the alleyways and courtyards of Fleet Street to seek out their Dickensian associations.
And, there are, most certainly, plenty of them.
There's the "mouldy old plantation or cat-preserve" into which Mr. Boffin leads John Rokesmith in Our Mutual Friend.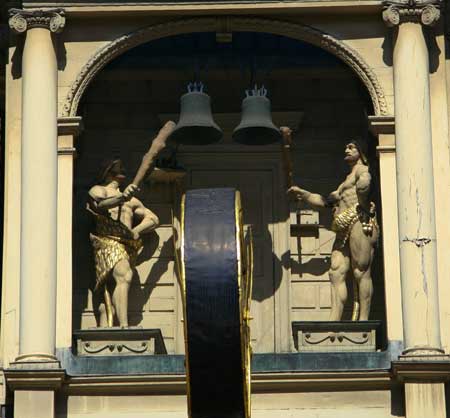 There's the wonderful old clock, on either side of which two ancient giants stand in readiness to strike the hours, which fascinated Dickens as a young boy, and to which he later sent David Copperfield and his aunt Betsy Trotwood, having them time their visit " to catch them at it at twelve O'clock."
There's the old church tower outside which Toby "Trotty" Veck used to trot upon and down in Dickens second Christmas book - The Chimes.
And then, having absorbed these memorable Dickensian locations, we will follow the budding author to be into "a dark court in Fleet Street" as, "stealthily one evening a twilight, with fear and trembling," he posts his first contribution to literature through the letter box of a monthly journal and takes the first tentative steps on the road to becoming the inimitable Boz.
A FANTASTIC OLD HOSTELRY TO END IN
Having feasted on so much of Dickensian London you will be able to wash it all down in one of London's most historic, and little changed taverns - Ye Olde Cheshire Cheese.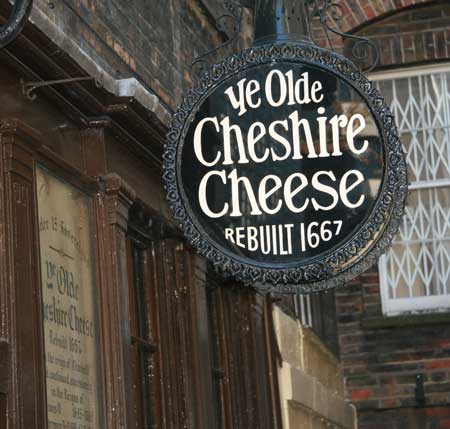 This place is a true time-capsule and is still much as it was when Dickens himself ducked beneath its doorway to enjoy its timeless hospitality.
There are no fruit machines, there is no loud music blaring out. The only sound you will hear is the babble of conversation, some of it animated, just as you would have heard had you ventured over its threshold when it re-opened in 1667, after having been "rebuilt" following the destruction of its previous incarnation by the Great Fire of London of the previous year.
Can there be a better place in which to rest for a while and mull over the fascinating locations you will have encountered and the intriguing facts and insights you will have gleaned about the life, times and works of England's greatest novelist?
Indeed, as you sit pondering the cavalcade of all things Dickensian that has, over the last few hours, paraded before you, you might well find yourself expressing similar sentiments to Scrooge when he awakes on Christmas Day to the realisition that "the Spirits have done it all in one night."
But, when it comes to the Charles Dickens Night Walk, you most certainly can cram an awful lot into one night. "Of Course you can. Of course you can."