DISCOVER THE STREETS OF DICKENS LONDON
On this walk through Dickens London Richard will introduce you to a part of London that has hardly changed since the days of Charles Dickens.
Starting at Chancery Lane Underground Station the tour will begin with a visit to a real throwback to Dickens London as you enter the peaceful tranquility of Gray's Inn, one of the picturesque and timeless Inns of Court.
THE OFFICE WHERE DICKENS WORKED AS A BOY
You will see the office where, in May 1827, Charles Dickens, aged 15, came to work as a clerk at the offices of Ellis and Blackmore. Here he encountered several people whose names he would later immortalise in his early works. You will also be able to decide for yourself whether Dickens was being a tad unfair when he described Grays Inn as "..one of the most depressing institutions in brick and mortar known to the children of men..."
WHERE HE WAS LIVING WHEN HE BECAME FAMOUS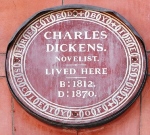 From Grays Inn you will follow in the footsteps of Dickens as he sets out on his road to literary fame. You will visit the site of Furnival's Inn where he was living when Pickwick Papers became a tremendous success and established his reputation as the "inimitable Boz."
Here, Richard will treat you to some wonderfully comic quotes from the early pages of Dickens first major work.
THE LODGINGS OF PIP AND HERBERT POCKET
The next location on the walk is Barnard's Inn where Pip lodged with Herbert Pocket when he first arrived in London, and which Pip condemns as "...the dingiest collection of shabby buildings ever squeezed together, in a rank corner as a club for Tom-cats..."
THE PEACEFUL TRANQUILLITY OF STAPLE INN
From here your walk will wend its way through the tranquil oasis that is Staple Inn. It was here that Mr. Grewgious lived in Dickens last (and unfinished) novel The Mystery of Edwin Drood.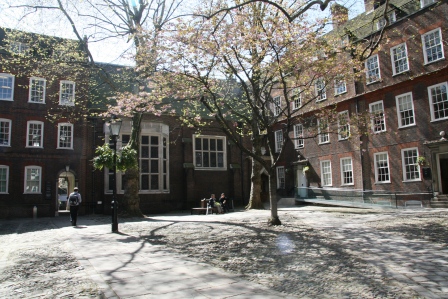 It is still a magical and peaceful spot and Dickens comment that:-
"..it is one of those nooks, the turning into which, out of the clashing street, imparts to the relieved pedestrian the sensation of having put cotton in his ears and velvet soles on his boots..."
still holds true to this day, and you will most certainly want to return!
A BLACK EYE FOR YOUNG MR DICKENS AND FOG EVERYWHERE
Next, by way of the gateway where the fifteen-year-old Dickens received a black eye on his first day at Ellis and Blackmore's, you will arrive amidst the cloisters of Lincoln's Inn and see the old dining hall, which dates from 1495. It was inside the hall that Dickens set the memorable opening of Bleak House by comparing the goings-on in the Court of Chancery to a London fog!
A CURIOUS RELIC OF DICKENS LONDON AND SOME TRUE SURVIVORS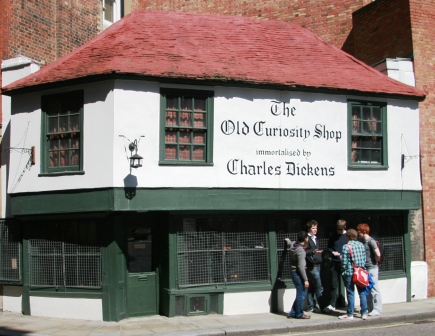 The final section of the Dickens London Tour is awash with Dickensian locations.
You will see the house where his greatest friend, John Forster, lived; you will stand across from the Old Curiosity Shop which, as you will hear, isn't the one that Dickens wrote about.
So join Richard for a journey through the streets, squares, courtyards and passages of Dickensian London and let him spirit you back to a bygone age where quotations a plenty will help build vivid images of the places you will discover as they were in Dickens day.