DISCOVER THE PICTURESQUE STREETS OF HAMPSTEAD
There really is nowhere else in London that is quite like the lovely village of Hampstead. Indeed, despite the fact that it is a short tube ride (20 or so minutes) from the busy and bustling centre of London, those who take the trouble to come here and who are willing to delve into its picturesque backstreets are rewarded with an experience that is both fascinating and inspiring.
And why would it not be so?
After all, artists, such as Romney and Constable, once found inspiration on its windswept heights; writers such as Charles Dickens, Robert Louis Stevenson and H. G. Wells were wont to praise the purity of its air and the delights of its tucked away passages; whilst poets such as John Keats and Percy Bysshe Shelley found themselves transported into realms of rapturous ecstasy by the awesome beauty of its wild and windswept heath
And, if all those bygone names are insufficient to persuade you to forsake the crowded, traffic-clogged, centre of London, then how about the hoards of modern day celebrities - such as Ricky Gervais, Dame Judi Dench, Sting, Boy George, Jamie Oliver and Michael Palin - who live, or have lived, in the picturesque properties that have turned the lovely village of Hampstead into the undisputed jewel in London's crown.
After all, who could resist the opportunity to call a bucolic village of narrow, winding lanes, picturesque cobbled mews, stepped passageways and quaint old cottages home?
NOW YOU CAN WALK IN THEIR FOOTSTEPS
Richard's Sunday morning Hampstead walk, starts later in order to give you time to enjoy a leisurely journey out to Hampstead. Indeed, you can, if you so desire, arrive early and enjoy breakfast in one of the many cafés that line the streets and alleyways that surround the station.
Whatever you choose, Richard will greet you outside Hampstead Station (he always arrives 30 minutes before the tour begins) and, once the group is assembled, the tour sets off for almost two hours of genuine discovery.
MOSTLY DOWN HILL FROM HERE
One thing about Hampstead that you will, most certainly, discover is that it is incredibly hilly - and some of those hills are steep ones!
However, Richard has composed the walk so as to ensure that - with one exception - the hills are descended rather than ascended, and the walk is taken at a leisurely pace with plenty of stops along the route. In fact, it would be more accurate to describe it as a gentle stroll.
AN ARTIST FRIEND OF DICKENS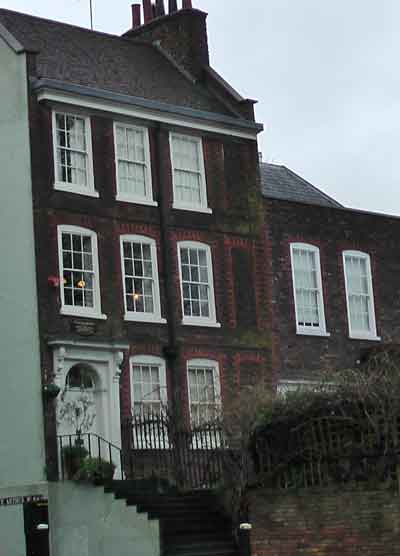 So, setting off, down the High Street, we make an abrupt turn and find ourselves gazing up at the old house that was once the home of Dickens's great friend - Clarkson Stanfield.
Stanfield was a renowned painter of theatrical backdrops - he did several for Dickens "amateur theatricals" - as well as being the illustrator for several of Dickens's works as well.
The two were great friends and, despite a difference of opinion on religious doctrine, they remained great friends until the day of Stanfield's death.
He also enjoyed an incredibly adventurous life, and Richard will regale you with tales of that life as you stand outside his magnificent former home.
THE JINGOISTIC COLONEL BLIMP
The tour then weaves its way through some extremely picturesque streets, to arrive opposite the former studio of the New Zealand born political cartoonist David Low, whose pompous, irascible, jingoistic and so stereotypically British creation, Colonel Blimp, delighted readers of the Evening Standard from April 1934 onwards.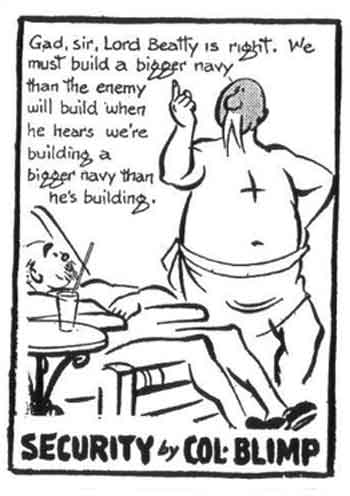 Paying tribute to his marvelous creation The Times perfectly summed up the character thus:-
"With the sympathy of genius Low made his Colonel Blimp not only a figure of fun, the epitome of pudding-headed diehardness, but also a decent old boy."
Low was also a fierce critic of Adolf Hitler and Benito Mussolini, not to mention a Vociferous opponent of the British Government's policy of appeasement.
Indeed, his merciless mocking of the Fuhrer led to his name being included in the Sonderfahndungsliste G.B. ("Special Search List Great Britain"), the list of prominent British residents who were to be arrested upon the successful invasion of Britain by Nazi Germany in 1940.
You'll hear the full story of his eventful life as you gaze over and up at the very studio in which he laboured at some of his most insightful, and cutting, satires.
PETER COOK AND H. G.WELLS
A truly incredible vista then awaits as we turn a corner and forge a fascinating path along what is considered to be London's most elegant 18th century promenade.
The gloriously picturesque properties that huddle over the road, give the distinct impression that they have lined up to form a guard of honour to escort us to the church gates that beckon, tantalisingly, to us from the far end of this magnificent thoroughfare.
Yet, we shall resist their allure, for the time at least, being as this is a Hampstead street to stroll along and savor. The list of former residents reads like a Who's Who of the giants of the past. Lord Alfred Douglas, George and Gerald Du Murier and, the two who'll we devote a considerable amount of our time to, H.G Wells and Peter Cook.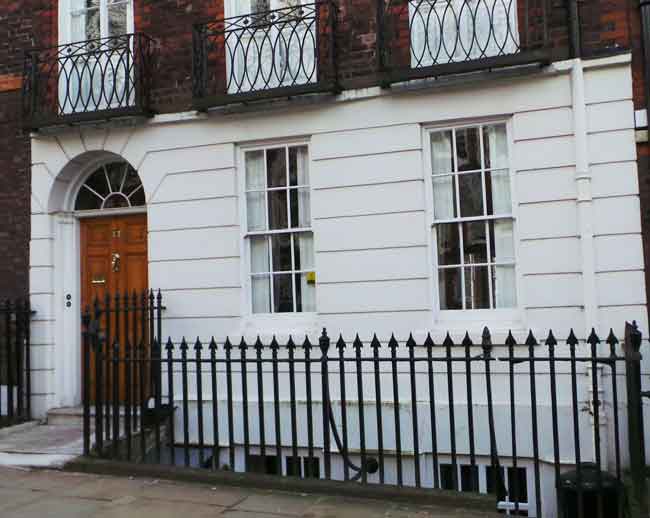 Now, to be honest, you wouldn't, as a rule, place the father of science fiction side by side with one of the greats of British comedy - and, yet, you can here, for they both occupied the same house - at different times, of course! How's that for a surprise?
What might prove even more surprising is what a surprising person H. G. Wells actually was. To describe him as a "literary Lothario" is something of an understatement. You'll learn all about his "eventful" private life outside the very house were some of its most eventful assignations took place.
On the other hand, Peter Cook's antics whilst living in the same house, pale by comparison. After all, he and his wife, Wendy, were content to entertain the likes of John Lennon, Mick Jagger, Keith Richards, Paul McCartney and many others whose names are synonymous with the hedonistic "swinging sixties"; but you can't help wonder if any of them ever spared a thought for the, seemingly, staid old writer who, when it came to free love, could have put any of them into the shade!
A HAUNTINGLY WILD AND BEAUTIFUL CHURCHYARD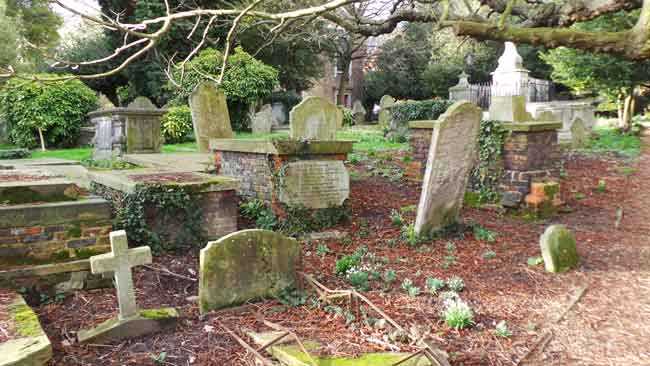 Having blushed slightly at the goings on behind the walls of the old property, we will step nimbly through the church gates to enter two hauntingly beautiful burial grounds (the old churchyard and the overspill one) in which we are greeted by a rich abundance of wild flowers, nettles and brambles wrap themselves around time-battered tombstones that lean across lopsided paths that meander between misshapen bushes and sentry-like trees that balance so precariously on the earthen slopes that you can't help but feel that just one gust of breeze might bring them crashing down.
But, fear not, these trees are ancient and their roots run deep and keep them hovering over the final resting places of the likes of John Constable, the artist; John Harrison, of Longitude fame; and Sir Herbert Beerbohm Tree, theatrical impresario, founder of RADA and grandfather to hell raising actor Oliver Reed.
Then, there is the resting place of the original Captain Hook, and the family grave in which lie buried the "Lost Boys" who, collectively, inspired J. M. Barrie's creation of Peter Pan.
And, as you stand by their graves, you'll hear tales of the achievements and tragedies of their living embodiments.
WONDERFUL OLD STREETS
Having lost ourselves for goodness knows how long (Hampstead has that effect) in the wild wilderness of the lovely churchyards, we embark on the only uphill climb of the walk. However, it will be a gentle ascent, during which we will pause at regular intervals to catch our breaths and admire places such as the church in which novelist Graham Greene was married, and at which wartime leader General Charles de Gaulle - whom Churchill, rather unkindly, dubbed "the monster of Hampstead" - once worshipped in. It's also the church where the funeral service of Clarkson Stanfield, whom we encountered earlier on, was held, with his bereft friend, Charles Dickens, in attendance.
We'll also take in the former Hampstead Watch House, from whence the first police patrols set out in the 1830's, and, for good measure, the former lodging house at witch Robert Louis Stevenson - author of classics such as Treasure Island, Kidnapped, and The Strange Case of Dr Jekyll and Mr Hyde - once stayed.
'COR BLIMEY IT'S MARY POPPINS
But, when it comes to surprises, Hampstead is the village that just keeps on giving!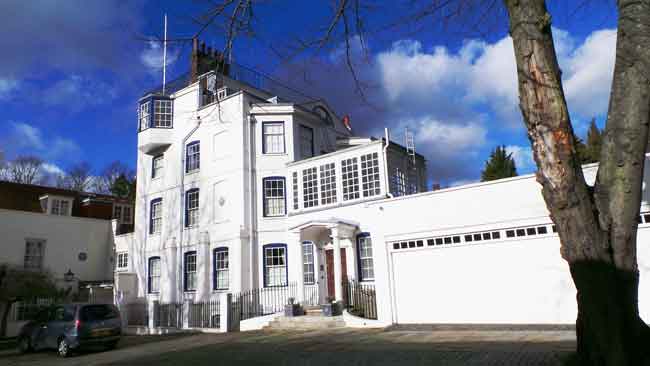 For, having encountered the former hospital which now offers luxury living for (extremely) well-heeled residents (at least one of them a former Spice Girl); having seen the little cottage that was once the summer residence of the artist John Constable; having viewed the former home of novelist John Galsworthy (of Forsyte Saga fame); we come to a supercalifragilisticexpialidocious moment when we gaze up at what appears to be a ship's quarter deck, balanced precariously on an upper storey of the very house on which P. L. Travers based Admiral Boom's residence in Mary Poppins.
A LEISURELY DESCENT
Thus, from the windswept heights of Hampstead, we begin our descent back into the village itself. But, still the discoveries keep on coming.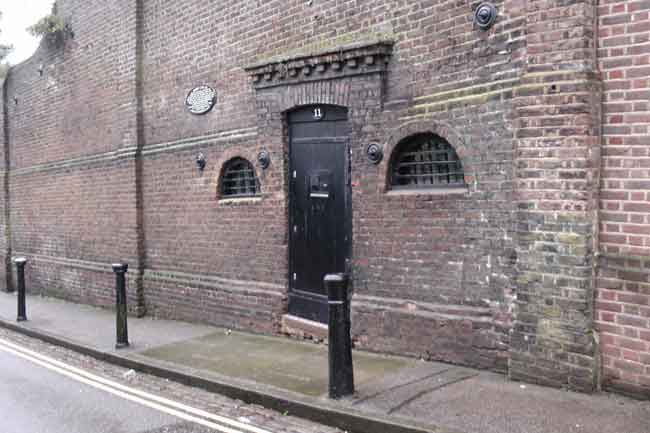 Via snickleway passages, and sloping backstreets we will go, encountering en route the childhood home of Daphne Du Murier, the Hampstead hideaway of Elizabeth Taylor and Richard Burton; the 18th century parish lock-up; another home of John Constable; the well-head from which once flowed the chalybeate waters with which Hampstead once conceived the, admittedly short-lived, notion of challenging Bath as a spa; and Boy George's eccentric Gothic pile that nestles on the very edge of Hampstead Heath.
All this brings us to a delightful tavern at which you might like to take a table and enjoy a leisurely lunch washed down with a well earned tipple of your choice, as you recount the places and people you will have encountered on your journey up and down the picturesque slopes of a village that is as magical as it is fascinating.