UNCOVER THE SECRET PLACES OF HIDDEN LONDON
Join Richard for a magical journey into the very heart of the old City of London to encounter a secret and enchanting world of hidden alleyways, tucked away courtyards and narrow passageways that are steeped in 2,000 years of fascinating history.
A BIT OF DICKENS AND A BIT OF SHAKESPEARE
Although this highly enjoyable walk is not exclusively a Dickens Walking Tour, it does include places that Charles Dickens knew and which he featured in his novels.
In addition, you will get to see parts of the old City that Shakespeare also knew.
So, as well as uncovering some truly wonderful places, you will also get to delve into the London of England's greatest playwright and best loved novelist. How inspiring is that?
MEET A CORDWAINER
We begin with a stroll along an ancient City thoroughfare that still follows the medieval street pattern.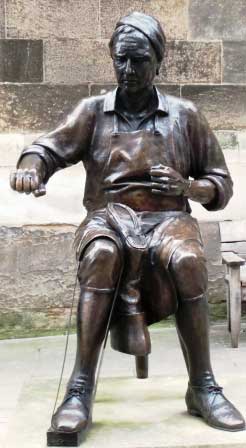 We will pause alongside a Cordwainer who will be going about his business, much as his medieval counterparts once did close to the very spot on which he now stands. Not sure what a Cordwainer is?
Don't worry, you'll find within five minutes of setting out on the Secret City Walking Tour!
In fact, you'll discover an awful lot more about these medieval tradesfolk.
Why, for example, did their activities incur the wrath of the church in the middle ages?
What was their connection with Spain?
How are Jimmy Choo and Patrick Cox connected to the Worshipful Company of Cordwainers?
All of these questions, and more besides, will be answered before you leave this historic spot, located at the side of one of London's most historic stretched of road.
THE EXACT CENTRE OF THE CITY
Bidding our new acquaintance a fond farewell, we put our best foot (or should that be feet!) forward and head off to encounter a building that was, reputedly built by Sir Christopher Wren to accommodate his workmen who were labouring on nearby St. Paul's Cathedral.
From here, we duck into a timeless thoroughfare to duck sharply down a timeworn passageway where you will find yourself standing at the dead centre of the City of London. Here you will hear tales of one of Shakespeare's greatest comic creations, a character who was based on a man whose house once stood upon the very spot on which you will be standing.
MEDIEVAL LONDON'S ANCIENT MARKET PLACE
A spot of shopping next as - via the church from which the legendary Bow Bells ring out (to be a Cockney you should, technically, be born within the sound of these bells) - we make our way to London's medieval market place. Here you will be regaled with takes from the past as Richard tells you of some of the bizarre things that went on here in days gone by.
WILLIAM WORDSWORTH MAKES A POETIC APPEARANCE
Have you ever read William Wordsworth's The Reverie of Poor Susan? If the answer's no (or even if the answer is yes) you probably won't be alone. But you will find yourself standing beneath the vast canopy of the very tree that features in said poem. Richard will even recite the particular verse that mentions the tree!
SUNKEN CHURCHYARDS AND SECRET GARDENS
The surprises come thick and fast in the next leg of the walk as we weave our way through a veritable warren of old streets and passageways to visit a sunken churchyard, stand before a bust of the bard himself, gaze down at the very beginnings of London and encounter a series of streets whose, seemingly innocuous names, belie eventful pasts!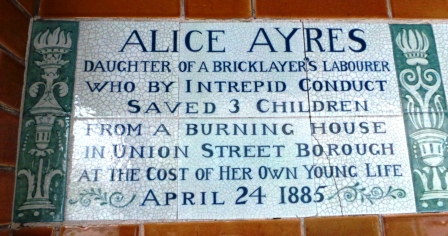 Then we find our way into a tranquil and tucked away garden where we pause to read a series of genuinely moving memorials that remember men, women and children who gave their lives to save the lives of others.
This really is a highlight of the Secret London walk and Richard will not only tell you some of the tragic stories that lie behind these curious tiles, but he will also allow time for you to read them and, if you wish, to photograph them.
PLACES STEEPED IN HISTORY AND A FEW FILM LOCATIONS
The final section of the walk takes in a range of impressive and fascinating sites.
We begin it by strolling along the street where Mr. Jaggers office was located in Great Expectations.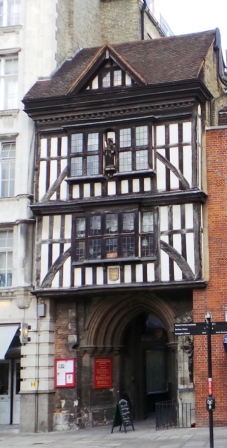 We then cut through the shaded courtyards of London's oldest hospital to hear of its Dickensian associations.
Emerging onto a spot that has featured in numerous recent films and television dramas (Skyfall, Bridget Jones's (no relation) Diary and Sherlock to name a few), we gaze up at London's only outdoor statue of King Henry V111 before stepping onto the Smooth field, once one of London's most notorious places of execution.
Gazing down on this place of long ago infamy is a magnificent 16th century gate and, stepping through it, you will find yourself confronted by the soaring majesty of London's oldest parish church (c1123).
In its churchyard we will stand beside a grave that featured in the film Four Weddings and a Funeral and around which one of the City's most charming customs still takes place each Good Friday.
A STUNNING SURVIVOR TO END YOUR TOUR WITH
Our last destination on this magical tour is a pre-fire building that, quite literally, allows you to see what the streets of London looked like before the Great Fire of 1666. It is a truly stunning building.
On the wall opposite Richard will point out another surprise in the form of a window that tells an intriguing story.
FUN, FASCINATION AND HISTORY
Throughout the tour Richard will regale you with historical facts and fascinating anecdotes that really will bring the streets through which you will be walking to vibrant and dramatic life.
So join Richard on an enchanting journey through the ages to uncover hidden away places where history was written, where the past comes to life and where time, well and truly, stands still.